Washing your face is a very important step to keep your skin clear and healthy. There are many ways that you must follow to wash your face. Though washing your face is a very easy way to cleanse, what if washing frequently causes some damage to your face? What if regular washing dries your face and thus makes it look dull? Washing your face more than twice a day can cause damage to your skin.
Therefore, it is better to know when to wash and not to wash your face. Also, it is important to understand how often it's good to clean and wash your face. This way, you will be able to keep your skin nourished, hydrated and soft.
When To Wash Your Face: General View
In general, dermatologist suggests that every person must wash their face twice a day. If the temperature of the environment is high and makes you feel sweaty or dizzy, you can wash your face thrice. Generally, it is morning and night when people wash their face and feels relaxed. Washing twice a day is mandatory if you want good skin. If you do not wash your face even once a day, it will lead to increased clogged pores and infections. It will also increase the hyperpigmentation level in your skin, and your face will seem to have an uneven skin tone.
Determine Your Skin Type First
Before you jump to conclusions, you must know your skin type. Once you are well aware of your skin type, it will help you to understand what suits you best and how you should treat your skin. If you want to know how often you can wash your face, it all depends on your skin type. So, it's better to know it beforehand to avoid any damage or complications.
Different skin types include dry or sensitive skin, acne-prone or oily, combination skin, etc. You can decide when to wash your face based on these skin types. Moreover, there are times when you do makeup or exercise and feel sweaty. In such times too, you are required to wash your face. Let's have a look at all of these in detail.
How Often Should People With Dry Skin Type Wash Their Face
For people with dry or sensitive skin, washing their face twice a day may not be a good idea. The formula of washing twice may prove to be irritating for dry skin type people. If you wash your face at once with warm water and moisturize it regularly, you are all set for the day. But if you wish to wash your face twice daily, you must use hydrating cleansers to keep your skin moisturized and avoid irritation. You can also use oil-based cleansers, or one with thick consistencies is the ideal choice for dry skin.
How Often Should People With Oily Skin Type Wash Their Face
Oily faces are mostly acne-prone skin types; for people with oily skin, the urge to cleanse increases. But you must only wash your face once, or else it will make your skin dry, and too much dry skin is not good for the face. Therefore, after every wash, your skin regains moisture. And thus, to prevent acne, you can start using cleansers that include hydroxy acids, which remove excess oil.
How Often Should People With Combination Skin Types Wash Their Face
Combination skin type people are very lucky. They can choose any cleanser with a great formula for removing impurities. You can wash your face twice daily with a gentle cleanser if you have a combination skin type.
Recommended for you:
How To Wash Your Face For Clear & Healthy Skin
Why Do We Need To Avoid Soap To Wash Our Face
We should always avoid using soap to wash our face due to the following reasons –
Soap makes skin dry
To be healthy, our skin should have a pH between 4 and 6.5. And soaps are alkaline in nature, making it very difficult to achieve this pH level.
Using soap to wash our face can make the skin dry by removing all the natural moisture. And the regular application of soap on the face can make the skin on the face flaky and itchy, becoming prone to breakouts.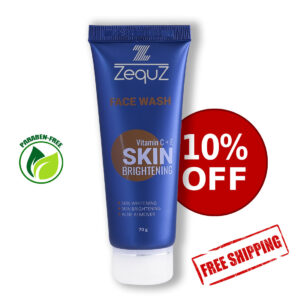 Zequz Face Wash (Paraben-free) for daily use.
BUY NOW!
Inflicts damage on the facial skin
The natural oils in our faces are essential to protect against external elements. And by washing your face with soap, you are losing these natural oils, causing wrinkles, and haggardness on the facial skin. The harsh chemicals in the soap are ideal for cleaning our skin, but when it comes to our face, we need to look for some mild alternative such as face wash.
From the above discussion, you learned the frequency of face wash that one needs to include in their daily routine to make their facial skin look shiny and flawless. Furthermore, if you want good facial skin, you must say goodbye to harsh soaps and welcome a face wash full of natural ingredients.